About Us
Years of knowledge = Great results
"We've got a great team at Spot On. We've seen it all over the years and take great pride in seeing our finished work back out on the road with a happy customer back behind the wheel"
Spot On Panel & Paint Ltd is owned and managed by Colin Saunders and staffed by a team of qualified professionals with years of experience under their belts. With a central location in Wellington getting your car to Spot On and yourself off to work or home again is easy. Spot On can also help with dropping you off locally (by prior arrangement) or giving you use of a loan car when required.
Spot On has been fixing minor scratches through to complete body rebuilds since 1990. Our team is continually training, ensuring we have the up to date resources needed to produce quality work for you. Customer satisfaction is our key focus.
Spot On is Du Pont Assured
Resene's DuPont Refinish Paint System is a premium range that has extensive supporting Colour Tools to ensure a match with any colour with accuracy to give a factory finish. Spot On Panel & Paint are Du Pont assured and also have the Technical support and backing of RALI and a global brand.
Resene's certified refinishers regularly attend refresher training to keep up to date with technological advances.

Spot On Panel & Paint stand by everything we do and offer a warranty on all our work.

Find out more about RALI

Find out more about DuPont Refinish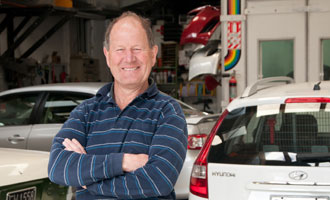 Colin Saunders, Manager
Colin will most likely answer the phone and be there to give you a helping hand. Colin has been in the trade since 1979 and has experience in all aspects of the industry.
Professional Spray Booth
Our professional spray booth provides a controlled and closed environment that allows us to ensure a professional finish.